MARCUS OGHIGIAN, OWNER – LAS VEGAS FAST HOUSE BUYERS
Hi, My name is Marcus Oghigian. I am a father to 4 energetic children (5 if you count Buddy, our pup), a devoted husband to the most amazingly supportive wife, and a dog and nature lover at heart. I enjoy hiking, scuba diving and growing coral in my spare time. I got into real estate back in 2001 when I used to work as a banquet server at the MGM. I overheard a real estate guru speak in the next room and I was hooked. Now We Buy Houses Las Vegas .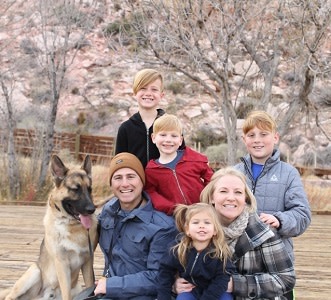 Over the past 15+ years, we have helped over 200 families get out from unwanted houses and move on with their lives. We see our service as much more than just an investment and dollar signs. We really feel as though there are people out there that cannot sell the traditional way because of certain circumstances in their lives and we are there to help provide a service. Through our years of experience, we know a lot about the various situations that you may be going through and can offer help, guidance and direction in a time that may be overwhelming.
Who We Are
With a wealth of experience under our belts (buying and selling homes), our team and network of real estate experts have handled some of the most complicated real estate transactions on the market today. Whether you're looking to sell your existing home or investment property or are looking to buy your forever home or a new investment, our goal is to find a solution that works for both of us. We approach every transaction with the utmost professionalism and care.
What Makes Us Different
THE LAS VEGAS FAST HOUSE BUYERS DIFFERENCE
You're might be thinking, "what makes you different from other house buying companies out there?" We're glad you asked…
We're able to pay more than other house buying companies because we have set ourselves up with contractors that repair the houses at a discount for us. They give us these discounts due to the volume of houses we buy houses Las Vegas. This allows us to pay you more money for your house and allows us to still make a return on our investment.
Many people aren't aware they have a option aside from selling a house themselves or hiring a real estate agent to sell their house. That somewhat unknown option is to sell fast to a cash home buying company such as ourselves. This option allows you to avoid paying thousands of dollars in agent commissions and closing costs assistance for someone needing a bank loan to buy your house.
Instead of putting your house on the market and waiting weeks or even months for an interested buyer to come along, you can get a no-obligation cash offer from us within 24 hours!
Having to keep your house in immaculate condition so that you can constantly show it to complete strangers is not very appealing. Those buyers might not even have the ability to get a loan to buy your house. How do you know if they are qualified for a loan? Search no more We Buy Houses Las Vegas
Why put yourself through all of that? You've already found a ready and willing buyer here.
We buy houses fast Las Vegas Just give us a call and get an offer from a qualified buyer today.
We Buy Houses Las Vegas
WE ARE A REAL ESTATE INVESTING COMPANY
Our company buys, sells, and rents homes. We will not be acting as your real estate agent or broker if we buy your house, sell you a house, or rent you a home. We are excited to potentially work with you directly OR if you are represented by an agent or broker. We are focused on improving neighborhoods and redeveloping areas that we work in. If you have additional questions on agencies please contact your local real estate commission. call us today We Buy Houses Las Vegas